Understanding Library Call Numbers
The Charlotte Christian College and Theological Seminary library uses the Library of Congress classification system like most college and research libraries. This classification system determines how books are organized on the shelf and categorizes them according to predetermined subject headings. When you open a catalog record, you will find the call number listed below the title of the book. This number is also printed on the spine label.
Spine Label on Book
The call number in the catalog is written from left to right on the catalog record and from top to bottom on the spine label. When you are looking for a book, be certain to write down the entire call number and the collection.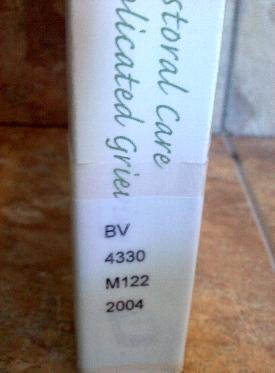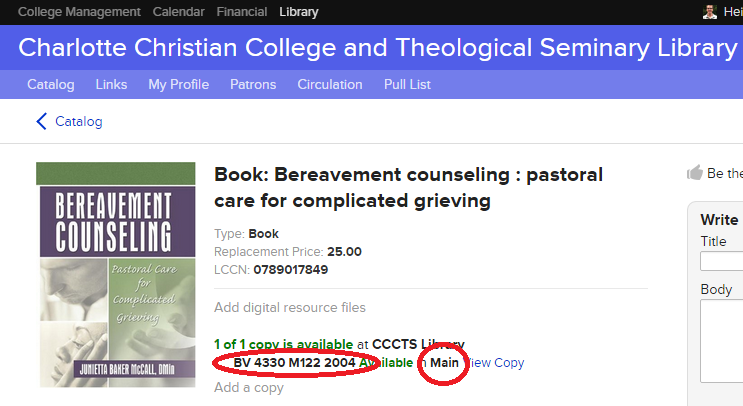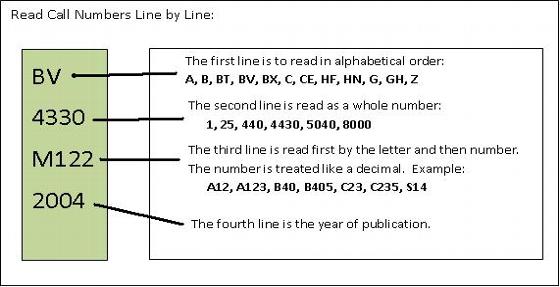 The Components of a Call Number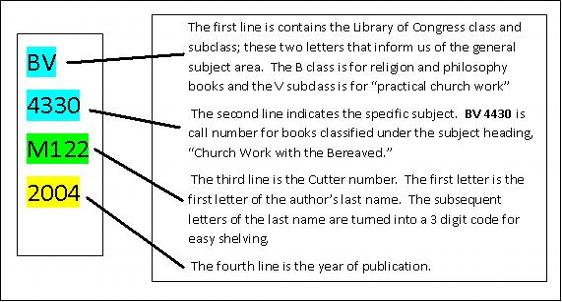 Learn More About the Library of Congress Classification System
Because the call numbers are based on standard subject headings, you should be able to find similar books by browsing the area around a book. CLICK HERE FOR INFORMATION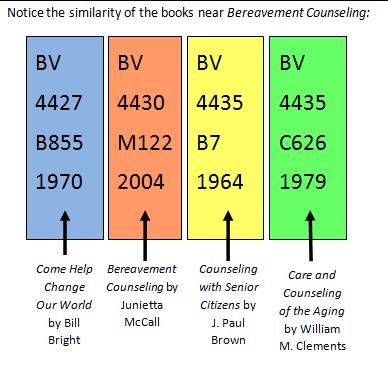 Locating the Books on the Shelf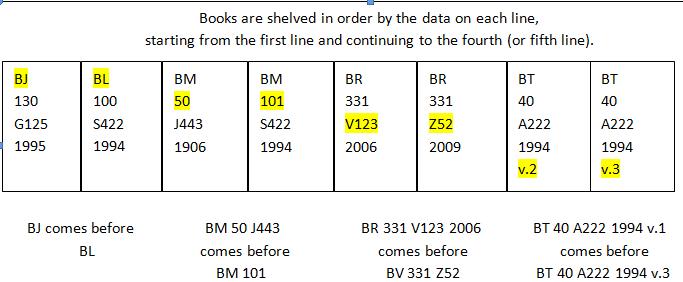 Donations
Charlotte Christian College and Theological Seminary is a 501(c)3 organization. All donations to the institution are tax-deductible. The library is actively soliciting donations of books, periodicals, and audio-visual materials. If you are in Charlotte, the library staff would be pleased to arrange a pick-up at your home or business. Please contact the library staff if you would like to donate items to the CCCTS library.
Library Wish List
The librarian maintains a wish list on Amazon.com of desired titles and equipment for the library. Please prayerfully consider blessing the library with these items. If you would like to honor someone through your gift, please inform the head librarian so that he might send you a thank you letter and designate the honoree with a book plate.
CCCTS Library Club
The Library Club is a tangible way to support God's work at Charlotte Christian College and Theological Seminary. Library Club members make monthly pledges that support the operating budget of the library. This helps the library to update its technologies, add quality books and media, and fund workshops hosted by the library staff. The library is responsible for cultivating well-rounded ministers who can navigate information.
Library Club Members make monthly pledges which can be invoiced to you or scheduled as a recurring donation via credit card. As a member, you will enjoy the following privileges:
Lending privileges with library books
Please contact the library for more information about becoming a member of the Library Club.
We look forward to growing and evolving to meet the needs of current and future leaders of the church.
Contact CCCTS
Hours of Operation
Monday – Friday: 8:30 am – 5:30 pm
Saturday – Sunday: Closed
Physical Address
7520 E. Independence Blvd., Suite 100
Charlotte, NC 28227-9664
Phone: 704-334-6882